The retirement dimension is a fundamental part of the overall strategy in order to attract elderly people to live in a healthy, safe, and pleasant environment whereby the Healthcare facilities will create a «controlled» environment. Potential residents will be able to purchase, under different schemes, healthcare services depending on their level of autonomy as health is deteriorating with age.
Based on the preliminary approval of the planning Bureau, the Rehabilitation centre will occupy 1,960 sq. meters, 98 sq. meters will represent Reception and Administration, new coffee and restaurant area of 436 sq. meters whereas 4,800 sq. meters will be developed into residential dwellings to be leased to potential retirees. There will be 60 one bedroom dwellings of 60 sq. meter each and 16 two bedroom 75 sq. meters each.
The remaining approximately 1000 sq.m represent the existing restaurant (430 sq. meters) and kiosks, souvenir shops and a small hostel of 15 rooms for staff or visitors.
One Bedroom dwelling (60 sq. Meters)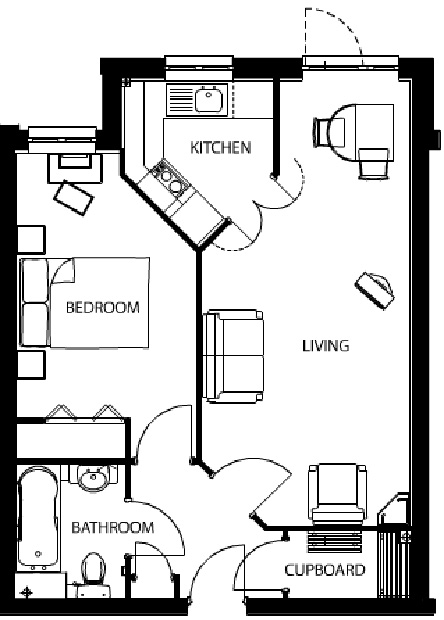 Two Bedroom dwelling (75 sq. Meters)
Meanwhile with or without the healthcare services, all residents will be able to enjoy the following benefits:
House manager
A House Manager will be on duty from 9am to 5pm Monday to Friday to ensure that all services and facilities run smoothly ensuring that if anything wrong, residents will be assured of immediate response.
Emergency call system
An emergency call system, installed in all dwellings, will be providing round the clock security and peace of mind. Should something happen or an emergency arise, by pulling the nearest cord or press the button on the pendant, there will be instant connection to the house manager or the in house health services.
Residents' lounge
Most developments will have a communal lounge for the benefit of residents. The lounge provides a good focus for social activity and is used by residents for evening entertainment and social gatherings such as the weekly coffee morning.
Communal laundry
The laundry contains washing machines and dryers for the free use of residents.
Guest room
Guest rooms with twin beds and en suite bathroom, will be booked out only by residents when invite family and friends to stay at brerak-even rates.
Maintained gardens
Gardens are maintained on a regular basis by approved contractors.
Social activities
Organized activities and entertainment for the benefit of residents. Typical activities include theatre outings, guest speakers and entertainers, bridge afternoons, coffee mornings.
Beauty saloon
The development will include a hairdressing salon and restaurant
The service charge
As a resident of the development managed retirement development, there will be a service charge. The charge will be covering . House Manager's salary, emergency monitoring, cleaning of common areas, gardening and buildings insurance. The charge will also pay for servicing of equipment and for the repair and maintenance of common areas and the outside of the building. Water and sewage charges may also be included.